OUR SUSTAINABILITY JOURNEY
Our Journey: Sustainability & Growth at Margaret River Roasting Co.
Established in 2016, Margaret River Roasting Co (MRRC) began as a wholesale coffee roasting operation. Our initial focus was importing specialty-grade green bean coffee to roast and wholesale to cafes and restaurants in the southwest region. Over the years, our vision expanded to encompass training, education, mentorship, and a significant emphasis on tourism. We remain committed to our coffee-roasting origins while exploring new opportunities as we grow.
Our Values and Commitment
At MRRC, our commitment to reducing our environmental impact drives our operations. We believe in leading by example in sustainable initiatives and aligning ourselves with supply partners focused on sustainable and ethical practices. We prioritise supporting local Western Australian businesses, fostering a strong sense of community and contributing to our local economy.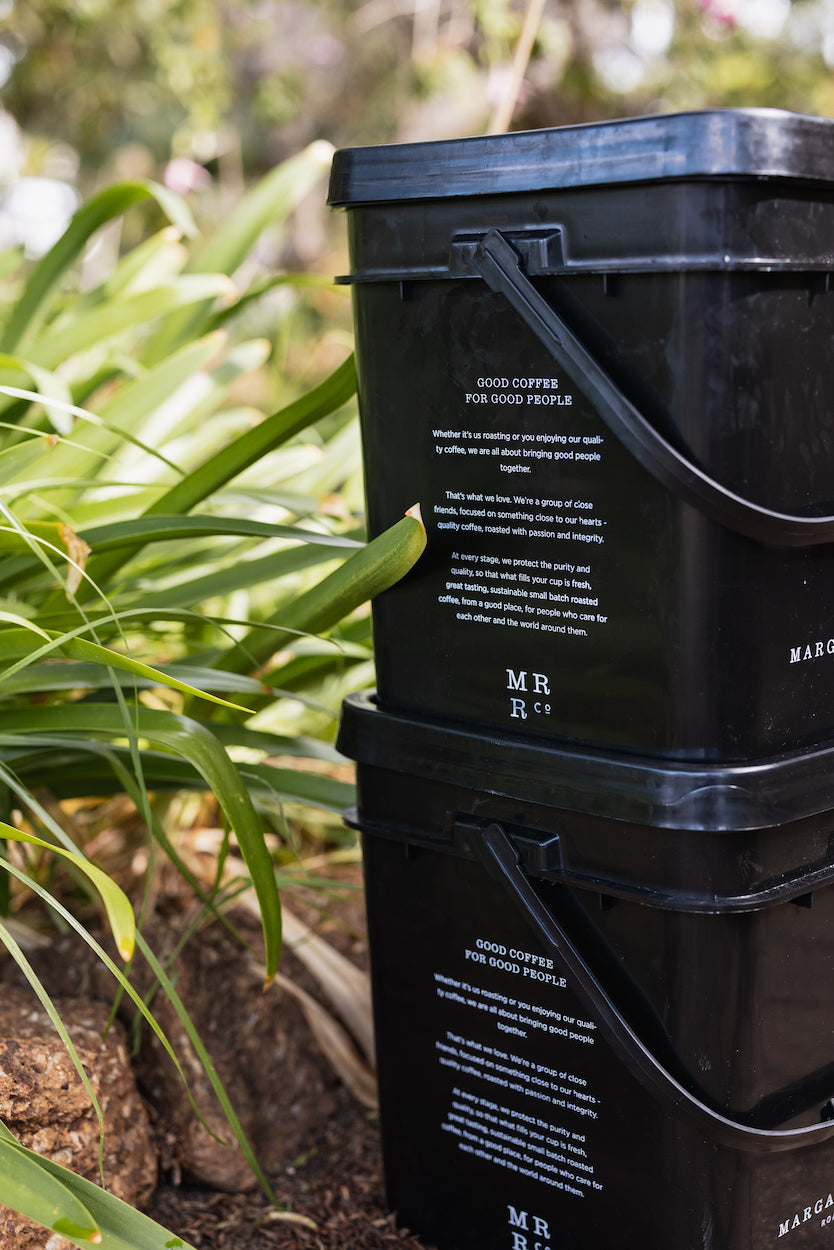 Our Sustainability Journey
In 2017, we stepped towards renewable energy, installing solar panels on our facility to power our roasting production and significantly lower our energy consumption. We also began sourcing our beans from local, ethically-sourced farms.
In 2018, we embraced more sustainable materials for packaging and perishables, a crucial investment towards a greener future.
In 2019, we introduced reusable 7kg tubs for our wholesale partners, preventing thousands of bags from ending up in landfills.
In 2020, we included compostable, biodegradable pods in our offerings, taking another step in our commitment to sustainability.
In 2021, we optimised our shipping operations for sustainability, delivering in bulk once a week, thereby using less fuel and reducing diesel emissions. We transitioned our retail coffee bags to our new soft-plastic recyclable bag the same year. The removable valve feature allows the bag to be repurposed into more valuable things like road bases and park furniture.
Our Future Plans
Looking ahead to 2023 and beyond, we plan to decrease roast emissions with our 60kg Mill City Roaster. Additionally, we're set to transition our core fleet from diesel to hybrid or fully electric vehicles, further decreasing our carbon footprint.
As demand grows for our high-quality, sustainably produced coffee products, we plan to expand our production facilities and explore new product offerings. Our plans include creating a tourism and education hub, supporting the local economy by generating jobs, and promoting local farmers.
Join Our Journey
At Margaret River Roasting Co, we're not just brewing coffee but cultivating a sustainable future, one cup at a time. Join us in our journey towards a greener tomorrow.